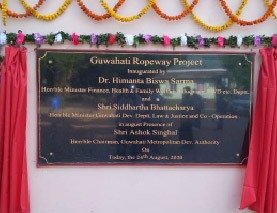 India's Longest River Ropeway Over Brahmaputra Opens in Guwahati
This project will add both to the tourism potential and the city infrastructure to a great extent by providing a convenient, comfortable, and nonpolluting, environmentally friendly mode of transport to the citizen of Guwahati. Sir, I must congratulate you on your very powerful vision.
The ropeway is a twin-track, single haul, bi cable double reversible Jig back system with a capacity of 250 persons per hour at a very reasonable cost of 60 crores approximately. The length of this ropeway is 1820 meters and it has two terminals. The main terminal which is in pan bazaar, south Guwahati is a ground plus 5 storied structure. The ropeway has 5 trestles with 2 trestles having river bed well foundations.
Hirakud ropeway started from September 2019
The Hirakud ropeway project work is completed and has been handed over. It is operational from September 2019.
Ropeway in Guwahati across river Brahmaputra
90% work completed, ropeway to be operational soon.
Built across the Brahmaputra river in the heart of Guwahati, this 1800 metre long ropeway will be of immense value addition in the promotion of tourism. It will act as a connect between South to North Guwahati, giving the best scenic views above the river and will be a great attraction for tourists. A Twin Track Bicable Jig Back cable car, it will be another jewel in the state of Assam.
Shri Mata Vaishno Devi Bhawan and Bhairon Temple, Katra Ropeway
DRIL has build a ropeway from Vaishno Devi Bhawan to Bhairon Temple which has been operational since December 2018. The Vaishno Devi ropeway helps the pilgrims reach the Bhairo Mandir within 5 minutes which earlier used to be difficult due to its steep climb. It also provides a picturesque view of the Bhairo Valley. It is an imported Fixed Grip Bi-cable Jig Back Double Reversible Passenger Ropeway system has been installed jointly with M/s. Garaventa A.G., Switzerland on behalf of Shri Mata Vaishno Devi Shrine Board, Katra, J&K State.
Two Passenger Ropeway Systems at Namchi
The two passenger ropeways operational here covers the entire town of Namchi giving the best views of the Kanchenzona range and the beautiful valleys of the region. Being a booming tourist spot it connects to the most popular Samduptse Hill at Namchi, South Sikkim. The two ropeways having a capacity of 250 Passengers Per Hour capacity is a Monocable Detachable from PWD Bungalow to Rock Garden & a Monocable Pulsated Fixed Grip Passenger Ropeway from Rock garden to Samdruptse Hill.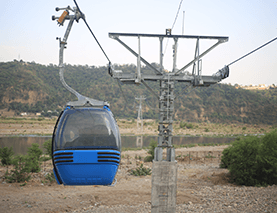 Passenger ropeway at Jammu
Two ropeways are being made from Peerkho to Mahamaya and from Mahamaya to Bahu Fort at Jammu with a capacity 600 Passengers Per Hour. It is a Monocable Detachable Grip Passenger Ropeway and Monocable Fixed Grip Pulsated Passenger Ropeway respectively. It is been executed for J&K State Cable Car Corporation, Srinagar, J&K State.
Passenger Ropeway Hanuman Dhara Temple at Chitrakoot
The Human Dhara at Chitrakoot, Madhya Pradesh is believed to be the mythological place which was visited by Lord Hanuman after setting the kingdom of Lanka on fire. This ropeway is being built for convenience of the tourists and pilgrims, who frequently visit the Hanuman Dhara Temple to offer their prayers. It is expected to be completed in the latter part of this year. It is a Pulsated Mono-cable Passenger Ropeway system with a capacity of 500 passengers per hour
Ropeway at Surkanda Devi Temple, Uttarakhand
Popular as one of the Shaktipeeths, the Surkanda Devi temple is a popular holy destination. This ropeway will make the journey to the temple easier, which was earlier difficult due to its steep climb. It is a Monocable Pulsated Fixed Grip Passenger Ropeway with a capacity of 500 passengers per hour.