COMPANY HISTORY
DRIL has been a pioneer in the infrastructure and construction business since 1974. We specialise in building Passenger Ropeways, Material Ropeways and Ski-Lifts as well as bulk material handling plants and real estate projects. We also undertake work for the revamping and capacity upgradation of existing ropeways, together with operation and maintenance of running aerial ropeways and material handling plants. We are also engaged in the turnkey construction of Steel and PRC bridges along with Rope Suspension Bridges.
MISSION
DRIL's mission is to create safe, efficient, environment-friendly transport solutions for making each journey a memorable and enjoyable experience.
VISION
We hold an excellent record of customer satisfaction in all of our installed systems. All DRIL personnel are trained to serve with a smile. We take special care of passengers with special needs, such as the differently abled, the aged and pregnant women. We offer amenities such as drinking water, cafeterias, toilets, wheelchairs, elevators etc. in most of our installations. Cleanliness standards are also maintained regularly. DRIL provides quality services at reasonable prices, thus offering value for money to our customers.
Read More
ROPEWAYS
Damodar Ropeways and Infra Ltd has been in the business of building cable cars since 1974. Having experience of over 5 decades, it is pioneer working on the cutting edge of technology in cable car in India.
SEE PROJECTS
REAL ESTATE
Damodar has been working in Real Estate for over 30 years. It strongly believes that location, planning and execution is the key to a successful real estate project.
SEE PROJECTS
BRIDGES
Damodar has completed many challenging bridges in difficult to reach areas. The team has successfully completed a variety of different kinds of bridges all over India.
SEE PROJECTS
NEW PROJECTS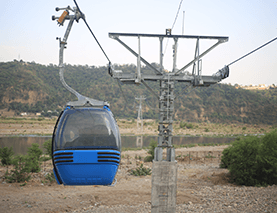 NEWS AND EVENT
Budget 2021 for Travel Infra: Ropeways' GST should be at par with Railways, says Aditya Chamaria, MD, DRIL
An exclusive interview of Damodar Ropeways & Infra Limited along with the views of Aditya Sir has been published in the leading Financial Platform - Financial Express
READ ALL